Everyone else is wrong
Yesterday I tweeted a photo of the aftermath of my daughter's playtime.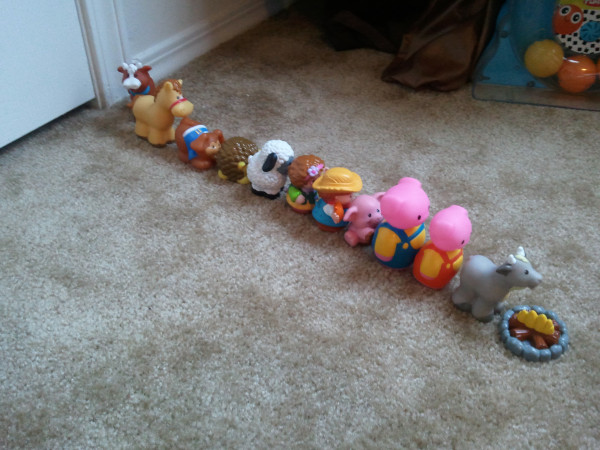 She's been doing these sorts of things for days. We'll enter a room she's been in and find toys–especially her little animal and people figures likes these–arranged in tight lines or rows. Always straight, always right up against each other. The first time it was a cute quirk. The second it was a "phase" she's going through. Last night I was watching her carefully reconstruct the above line after it was disrupted and I started seeing it as the start of something bigger.
My daughter is developing a world-view.
She's already constructing a paradigm that she expects her world, and the larger world around her, to conform to. Everything should line up, just so. I noticed she's even grouping certain categories or species together. The pigs are together, the people are together, etc. Her brain sees symmetry and order in things, and she is already showing preference for those things. She is bothered when things don't fit to her preference.
She's just like me.
Things have to line up, just so, or it all feels "off".  I see ways that I push back against anything that doesn't line up with my world view. Occasionally I am justified in that push-back; often I realize that my resistance is only troublesome distraction from reality. How much I get to thinking things are supposed to be a certain way, when the facts of the matter should be leading me in a different direction completely. When we base our reaction to things on our preferences and personal comfort, it rarely leads anywhere good. But I do it constantly. I hide behind the phrase "in my opinion", because saying "I think everyone but me is wrong on this" would make me look bad.
When you feel a knee-jerk resistance to something that conflicts with your "world-view", take a moment and ask yourself why. You may come out the other end of the question feeling verified…but you may realize that much of your resistance is old habit, with little reason other than a childish reliance on the way you like things to be, or what is comfortable.